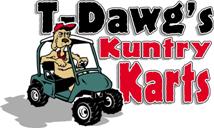 T-Dawg's Kuntry Karts
Client:
T-Dawg's Kuntry Karts
Address:
8401 Fm 314
City:
Ben Wheeler
State: Texas
Zip: 75754
Country: USA
Phone:
903-539-4621
Fax: 903-852-7418
Toll Free:
Email:
Become a Premier Member
Website:
T-Dawg's Kuntry Karts
Location:
Become a Premier Member
Description:
T-Dawg's Kuntry Karts offers sales and service in East Texas. We specialize in refurbishing and customizing golf carts for a variety of uses. Whether its for golfing, hunting or everyday chores, we can build a cart to fit your needs.
---
| | | |
| --- | --- | --- |
| Search By State | Subscribe to the NEV Portal | Search By Country |
| | | |
| --- | --- | --- |
| | FREE Newsletter! | |
Find it Fast: The Electric Vehicle Directory for Neighborhood Electric Vehicles

Neighborhood Electric Vehicle Portal is committed to providing resources to the needs of the NEV, electric vehicle dealer and visitors seeking NEV's and electric vehicles. If you feel that a listing is inaccurate please contact us, as we strive to try to provide quality resources.